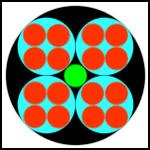 Begin with one
BLACK
circle, and inscribe 4 identical, interior, cyclically tangent,
CYAN
circles, such that they are also tangent to the black circle.
In each of the four cyan circles, inscribe 4 RED interior circles in exactly the same way.
Finally, inscribe a small GREEN circle in the center of the original black circle, tangent to the cyan circles.
Which is larger, this small green circle, or one of the small red circles?